Tired of using Google Translate to read labels in the stores? Getting frustrated with running to multiple shops to get all your grocery done? Online shopping in Moscow has been grown rapidly during the COVID-19 period, and thanks to technology, online shopping is getting easier for those without Russian language skills!
Moscow Online
Shopping Guide
The following is my experience with the most popular online shopping platforms in Moscow. As the market is rapidly changing, the normal caveats apply and your mileage may vary. I usually use a local card but have indicated when I've either used a U.S. credit card or have heard from others that they work on a given platform.
Online Grocery – Utkonos Утконос
Utkonos is widely used within the expat's community in Moscow and English proficiency is the main reason. Many people are surprised when couriers speak English to confirm the delivery time. However, I have also experienced Russian-only couriers.
Utkonos targets at a mid-to-high market, providing a good selection of foreign and imported products. Do not forget to take advantage of deep discounts; these are really good deals.
Utkonos are not popular among my HSE classmates and price is the main reason. In addition, fewer choices for popular local brands is perceived as a weakness.
Online Grocery – Perekrestok перекресток
Perekrestok is my current favorite and also one of the most popular supermarkets among the Russian middle-class. There are a good variety of local products as well as imported produce and products at a reasonable price. Especially for imported goods, Perekrestok offers more competitive prices compared to other online grocery platforms.
Perekrestok's pre-COVID-19 online platform is not user friendly and the delivery range is quite limited. As the epidemic heated up, Perekrestok updated its e-commerce platform and achieved the highest online revenue growth rate in Russia. Certainly, their delivery services areas have expanded widely in Moscow.
Clearly labeled shelf date and no out-of-stock sales are the main advantages with Perekrestok. It is quite annoying when the driver is dispatched with fewer items than you ordered, which I encountered often with other online grocery platforms, especially in the early stage of the lock-down period. Moreover, each product with a short shelf life has a clearly labeled and accurate good-for date.
Online Grocery – Metro by SberMarket
Metro Cash and Carry, a French franchise, is quite popular among the expat community and the physical shops can get really crowded on weekends. Metro Cash and Carry does not manage its own online shopping platform but outsource to SberMarket (сбермаркет) instead. You can purchase either on SberMarket platform or on Metro official website (online store) Any price difference? Of course, goods are slightly cheaper on Metro's official website and Metro provides coupons to push for checkout. Unfortunately, this last-minute coupon benefit is gone after the surge of delivery demands. However, SberMarket offers a cheaper delivery charge.
Metro Cash and Carry's business model is similar to Costco in the U.S. This is not a fancy retail store but a warehouse design. Customers get better deals based on the quantity of purchase. However, unlike Costco in the U.S., you are not required to purchase a large quantity at once for most of the goods here.
The flip side of Metro delivery is out of stock problems. SberMarket's courier only picks up your order in the store a few hours before the delivery time, when a popular discounted item might be sold out (happens all the time) or the courier might be unable to find an item. While online pre-payment was the only choice in the first few weeks of the lockdown, over-charge was a serious issue. Fortunately, online pre-payment is in the past. The system will verify the card at checkout but only charge for the items the couriers actually take.
Tips to use Metro's online store is to purchase regular non-discount items and big items. They are easier to find and less likely to be out of stock in the store.
For diplomatic tax refund purposes, the complete documentation is ready for download after transactions completed. Unlike shopping in the physical store, you can download all the invoices with stamps and packing lists online for tax refunds.
Online Grocery – Ашан by SberMarket
Auchan is one of the most famous supermarkets/hypermarkets in Moscow and is known for its low-cost. Auchan is always crowded no matter what time you go. However, the queue is quite efficient and the checkout waiting time is bearable. Even though Auchan has its own app and payment system – Auchan Pay, its delivery services is outsourced to SberMarket like Metro Cash and Carry.
The Auchan online delivery service has similar issues to Metro: unavailable products and inaccurate billing. However, the produce quality in Auchen is worse and couriers are often do NOT follow instructions and will pick up unwanted substitutes. Avoid fresh produce and choose pre-packaged and known local brands instead.
Online Grocery – Фрэш Fresh
Fresh is highly recommended in the Moscow expat's community for its high quality and imported cheese. They are targeting the higher-end market.
Specialty – Asian Food – Korshop.ru
Korshop.ru is similar to the H-Mart in the U.S. Although it is positioned as a Korean supermarket, they carry sauces and ingredients from China, Japan, Thailand, and more. Korshop has a physical store in the center of Moscow but it is quite small and the online store has a much better selection. Personally, I love their tofu. The quality is good and the price is reasonable. Their tofu costs more than the Vietnamese secret market but it is a lot cleaner and easier to reach.
Compared to other Asian grocery markets in Moscow, Korshop has the most competitive pricing and selections. They provide promo codes from time to time and an additional 2-5% off based on the order amount.
eCommerce Platform – Wildberries
Wildberries is the largest eCommerce Platform in Russia in terms of revenue. Mrs. Bakalchuk established this platform during her maternity leave from teaching at the age of 28 in 2004. Initially, it facilitated the young mother to purchase newborns clothes at home and expands to the leading e-commerce platform in Russia. Today it is the main destination for young Russians to purchase cosmetics and luxury goods. Personally, I found several great deals on Legos and other children's toys on this platform. The price is approximately one-third to half of the price in Amazon, and quite competitive in Russia.
Before COVID-19, Wildberries only provided pick-up sites and no delivery services. The choice for delivery, such as date or time, seems premature and there is no remark column to remind them of my poor Russian. Surprisingly, the customer service switched to English immediately after realizing I do not speak Russian to confirm the delivery time. Since then, no Russian has been needed for any Wildberries orders.
eCommerce Platform – Ozon
Established in 1998, Ozon is Russia's second-largest eCommerce platform and is determined to be the Amazon of Russia, and shoppers can feel the Amazon-style in its platform design. Outside of cosmetics, they probably provide the most product selections among all the e-commerce platforms. Ozon's IT technology has substantially leaped forward since 2017 when Mr. Alexander Shulgin, the former Yandex COO, joined Ozon.
Ozon Premium, similar to Amazon Prime, charges a monthly fee as low as ₽150 for the exclusive benefits, including free shipping, exclusive discount, and 60 days return and exchange policy. Unlike other platforms that outsource delivery services, Ozon has its own delivery crew. Reliable delivery service is Ozon's main advantage.
eCommerce Platform – Beru Беру
Беру, established in 2018, is a joint venture between Yandex and Sberbank as the third-largest e-commerce platform in Russia. The company is still in the expansion stage with two "rich dads", and Beru offers some great deals.
In addition to price competitiveness, Beru has cutting edge advantages on delivery and packing. All the fragile packages come with layers and layers of bubble wraps. They wrap products as carefully as packers for international movers or even better. By leveraging Yandex's superior IT technology, Beru's delivery tracking services is far ahead of any competitors. On the scheduled date, you can track the exact location of your courier and the sequence of the package to be delivered.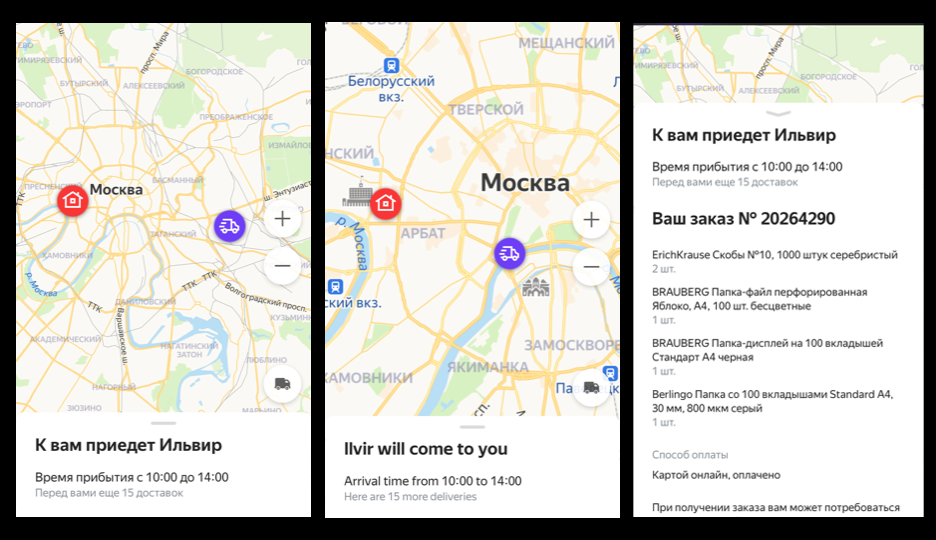 Specialty – Butcher – Prime Meat
Miratorg is a widely recommended brand for quality meat. However, not every store carries all its products and I am tired of running around several grocery stores. Prime Meat is located in central Moscow and is recommended by the Moscow Times. They provide a wide range of meat selections and cuts, and it is my go-to for ground pork. Pure ground pork is hard to find, and even if you see a pig picture printed on the Miratorg package, it is probably a mix of ground beef and pork. While the Perekrestok butcher counter offers ground pork, it is not often fresh.
Specialty – Nuts and Spices – Nuts4Life
Nuts are widely available in Moscow but quality varies. I love to purchase nuts in the market even though I am often paying a premium price. However, that is no longer a choice during the lockdown.
Nuts4Life has a good selection from raw, roasted, spiced to coded with dark/white chocolate. The quality is as good as the nut markets but at half price. The delivery service is outsourced to Yandex Taxi and each bag is labeled with an order number. Mix-ups happen, so make sure you take the right bag! Even though you cannot choose the exact delivery window, by entering the order number on the scheduled date, the website provides an estimated arrival time within an hour.
Specialty – Wine – Simple Wine
Wine is widely available in most supermarkets and they all deliver alcohol drinks, except Metro Cash and Carry. Simple Wine is specialized in wine and provides more choices. Their service level is quite high with good command of English. I made an order after 21:00 on Friday evening and received my order the next day.
Specialty – Children Goods – Children's World детский мнр
Children's world is one of the biggest kids shops in Moscow. I love shopping in the physical store to look for special toys. Its online store provides more promotions and discounts than physical stores. Before the lockdown, I normally order online and pick up in the store.
It seems the online shop and individual stores are running separately. Instead of consolidating all the items, you must make individual orders on each store and pick each order up in different stores. It is quite troublesome.
Even though Children's World does not have the best price on toys or Legos, I love to purchase children's winter clothes there, especially in February and March. A snowsuit cost less than US$30 at the original price of US$100+. The fitting rooms are spacious and clean. The shopping experience is quite cozy and comfortable.
Specialty – Sports Equipment – SportMaster спортмастер
Sportmaster is the largest sports chain in Russia and they are in almost every shopping mall. I had a good experience at the physical stores but no sports needs during the lockdown period.
In conclusion, online shopping in Moscow is now easy and convenient. My overall experience has been positive and I save a lot of time that I'd spend looking up individual products in the stores. The biggest two hurdles for foreigners are payment and communication with couriers.
The payment is easily solved by holding a Russian bank-issued debit card. Due to the sanction and other restrictions, foreign bank-issued credit cards are not widely accepted or have high hidden fees.
I highly recommend using the remark space prior to payment to provide additional details to the store. I highlight my poor Russian language, reiterate the delivery address and payment method (including the issuing bank), and ask couriers to send me a text message instead of calling before arrival so that I can use Google/Yandex translate. This doesn't completely solve the communication issue but I do find it become easier.
Online Shopping in Moscow is fun and adventurous. I absolutely do not miss those days using my google translate to look for items one by one in the supermarkets.
Other Articles about Moscow